Corn Grits, Flour and Germs Extraction Line (Dry Method)
With corn as the raw material, it can process corn into corn grits, corn flour and corn germs. The corn germs extracted by this production line can keep good completeness and high purity and is suitable for grease and feeds enterprises.

Technology introduction of corn grits, flour and germ extraction line:
The end products are corn grits, corn germs and fine feeds. Corn grits, flour and germ extraction line adopts excellent automation solution. It can furthest reduce labor cost and production cost. The professional grain processing technology designers and commissioning engineers team can ensure the advanced technology, which can not only reduce energy consumption, but also reduce the influence to end products by impurities, dust and bran. Each product yield rate and products quality reaches or surpasses the national standard and this strengthens the market competition.
It is widely used in food enterprises, sugar enterprises, beer enterprises and grease enterprises. And the core equipments have won the national patents.

End products of corn grits, flour and germ extraction line:


Technological process of corn grits, flour and germ extraction line:
1. Raw grains cleaning section: once screening, once stone removing, once magnetic separation. Equipped with winnowing system, it can remove big, small and light impurities, stones and magnetic material from the grains to ensure high quality of the products.
2.Degerming, peeling and germ extraction section: it adopts the technology of twice degerming, once peeling, once polishing, three times of germ extraction, twice fine selection, once suspending, four times of screening and classifying.
1)Degerming:it smashes the material into 3-4 parts, makes germs separate from albumen and ensures the completeness of the albumen.
2)Peeling, polishing: it removes the bran and germs from the albumen, and separates the powder, bran and germs by effective air suction system.
3)Suspension: it separates the bran from the mixture of bran and germs by airflow according to different material gravity.
4)Screening: it classifies the material according to sizes and quality.
5)Fine selection: it separates the bran, broken germs from the material by the joint effect of cowl flap and the airflow according to different material gravity.
6)Germ extraction: it separates the albumen from the mixture of albumen and germs by joint effect of cowl flap and airflow according to different material gravity.
3.Grits making section:it adopts fine grits screening, classifying and suspending technology.
1)Fine grits: material is ground into grits and albumen with small harness is milled into flour.
2)Screening: it classifies according to material sizes.
3)Suspension: it separates the bran from the grits by airflow effect according to different material gravity.
4.Flour milling section:it adopts several sections of grinding and screening technology.
1) Grinding: it grinds the flour into fine powder.
2)Screening: it separates the fine powder from the material.
5.Measuring and packaging section:the warehouse can reduce the amount of labour. Measuring and packaging can be manual or electronical.

Technical parameter of corn grits, flour and germ extraction line:
Model

Power

Electricity Consumption per Ton

Yield

Workshop Size

KW

Kw/Hour

T/Day

L*W*H/M

100t

369

60-64

100

35×5×10(steel structure)

150t

554

60-64

150

42×7×10(steel structure)

200t

740

60-64

200

48×7×11(steel structure)

300t

950

60-64

300

48×21×29.4(steel structure)


1.End products:grade corn grits, grade corn flour, corn germs and corn bran
2.Yield rate:corn grits 40-50%, corn flour 25-30%, corn germs 7-8%(purity≥90%), corn bran:25 %;
3. End products index:
A Corn flour fineness: 40-200 meshes (flour fineness can be adjusted)
B Sand content:≤ 0.02%
C Magnetic metal content:≤ 0.003/kg
D Moisture content:≤ 14.5%
E Fat content: 0.7 — 1.3%
F Appearance and taste:uniform corn grits granularity, golden color, smooth granules, high degree of germs completeness, fine corn flour, pure taste.
Core equipments:vibrating screen, classifying destoner machine, air blower, air suction duct, degerminator, germ extraction machine, corn peeling machine, corn polishing machine, flat sieve and so on.

Technology features of corn grits, flour and germ extraction line:
1. It reduces equipment input in grain dampening and end products drying compared to the wet method technology.
2. Corn dry method processing technology makes the processing more sanitary and cleaner.
3. It reduces loss of albumen in peeling section.

Win Tone Machinery supplies you with the professional project consulting and service programme:
1. We can supply professional solutions for each section and each machine.
2. More than 20 years of experience in corn and grain processing technology, makes us have the ability to provide you with the most professional suggestions in design, manufacturing, installation and project management.
3. We help to reduce the production cost and labor cost to make the long-term profits for enterprises.
4. We can also offer a series of solutions for commercial development for the by-products, such as grain bran and germs.

VIDEO: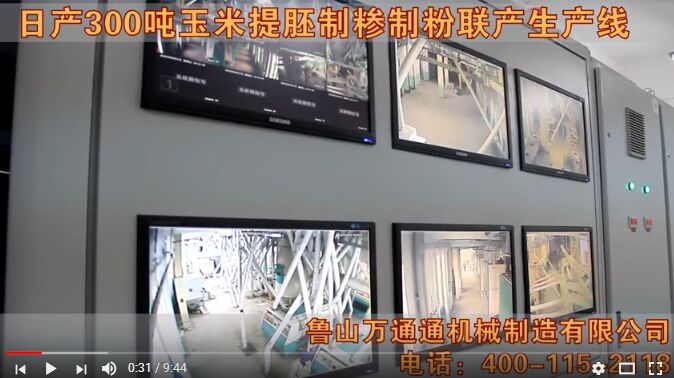 OUR FACTORY:

PROCESSING WORKSHOP:

CUSTOMER VISIT:

FAIR:

OUR TEAM: