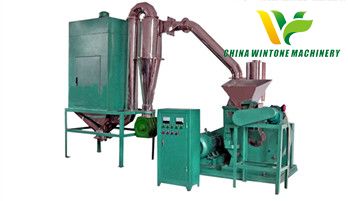 WFJ Super Fine Corn Flour Machine Set has two models:
WFJ-30, WFJ-60
The super fine corn flour machine features:
1. Uses advanced equipment to feed, edge-fold and weld;
2. The Super Fine Corn Flour Machine is a kind of vertical spindle reflection-type pulverizer. The grading unit in crushing chamber makes the micronized process and the separation of powder accomplished one time;
3. Air volume regulating valve and impeller speeder ensure the adjustment of fineness without halt, and the high sanitation;
4. Air cooling system for crush, providing low temperature, especially for heat-sensitive and fiber materials;
The Super Fine Corn Flour Machine is improved by our company on the base of advanced technology from America, Japan, and German.
It is employed in grains, chemical, pharmaceutical industry, that is an ideal equipment in soft and medium-hard materials processing plants.

Technical parameter:

Rotation
Speed(r/min)