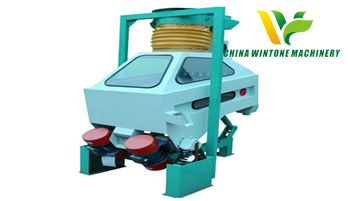 TQSF gravity destoner machine usage:
TQSF gravity destoner machine consists of screening part, classifying part, stone removing part and winnowing part and has the dual functions of classifying and stone removing. It is the newly designed efficient corn cleaning equipment and is the most ideal equipment in cleaning section of grain and corn fine and deep processing.

Working principle and features:
TQSF gravity destoner machine is suitable for separating the high density impurities in the grains, such as pebble, metal and glass. Its production capacity depends on the grain features and the impurities content. For soft wheat, its production capacity can reach 22t/h, for Doolen wheat, it can reach 14.5t/h and for corn 16.5t/h. Besides of the cereal mentioned above, the destoner machine can also process rye, rice and soybeans.
High separation rate and excellent cereal cleaning ability:
The destoner machine can effectively separate the light stone which has the similar granularity with cereal granules. It can also separate the high density particles, such as pebble, glass and metal so as to reduce the abrasion to the next processing section equipment by the impurities.
High yield and wide usage: it can also clean oat, buckwheat, barley, millet and many other cereals and can be used in brewing, destilling and ethyl alcohol producing.

Destoner machine has three different specifications: 6t/h,6–12t/h,or 12–22t/h.
Destoner machine technical parameter:
Vibration
Amplitude
(MM)

Vibration
Frequency

(r/Min)