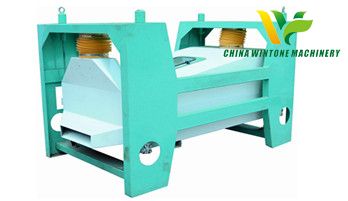 Rotary flat sieve is the ideal equipment to remove big and small impurities in the grains. It is widely used for cleaning particle material in grain, feeds, food, chemical industry and brewing industry.
Rotary flat sieve features:
Advanced workmanship, optimized structure, durable and easily operated;
Excellent clean technic with front of round movement, middle of ellipse movement and end of straight movement;
Specialized distributors with steady charging flow to uniformly spread materials on the sieve.
Working process:
Materials go into the distribution device (2 )through inlet (1),and then get on the first sifter (3) after being equally distributed by the distribution plate. The sifter does circular motion to fast spread the materials and sift for a long time to increase efficiency.
Big impurities are on the first sifter (3) and discharged from side outlet (7).The impurities under (3) fall on the second sifter with grains and small impurities on the sifter which moves back and forth in the rear and quickly go into vertical air suction separator through outlet(6).Then the grains and small impurities are separated.micro impurities under the second sifter are discharged through the bottom outlet(8).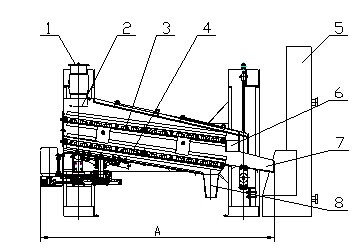 Rotary Flat Sifter consists of the rack,sieve,driving device,stop block and vertical air suction separator.
The sieve-based machine is integrated with air to sift the materials in diverse motion.It is equipped with proper holes and plates according to the different sizes between grains and impurities.The sieve rotates or moves back and forth to separate materials and then impurities are removed due to different suspending speed from grains.

Technical parameter:

Outline Size
(mm)

Upper
sifter
7°

lower sifter
8°
OUR FACTORY:

PROCESSING WORKSHOP:

CUSTOMER VISIT:

FAIR:

OUR TEAM: