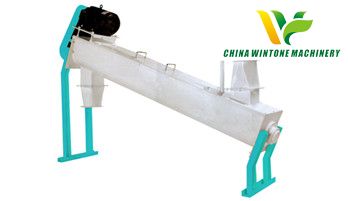 SJH16X130 corn mixing dampeneris the main equipment in corn and grain moisture adjustment for grain processing factories.
  Corn mixing dampener features:
  All steel plate adopts qualified steel plate.
  It adopts numerical control bending machine and argon arc welding machine to bend and weld.
  All the connecting double-screw bolt adopts galvanized bolt.
  The strength grade meets the equipment requirements.
  Screw blade adopts wear-resisting steel plate.
  Functional description:
  SJH16 x130 corn mixing dampener consists of dampening mixer and dampening control system. The dampening mixer's main working component is paddle screw. The mixing tank keeps upward sloping 20 degree, therefore, when the material is propelled, there has unceasing part of material slides under the gravity effect and makes the material have intensive mixing, and the moisture can realize uniform distribution when it contacts corn and grains sufficiently. The dampening control system makes it work at the best station according to moisture quantity addition which has been set and this can also be used in flourmill to adjust the wheat moisture.
  Technical parameter:
Model

Yield(t/h)

Maximum Dampening Quantity
(%)

Adding
Rate for the Broken
(%)

Paddle Diameter
(mm)

Corner Fittings Length
(mm)

Corner Fittings Dip Angle
(degree)

Spindle Speed
(r/min)

Power
(kw)

Outline Size
(mm)

SJH16x130

2-4

4

<0.2

160

1300

20±5

260

1.5

1500x350x1250