BLM Series of High Voltage Pulse Cloth Dust Collector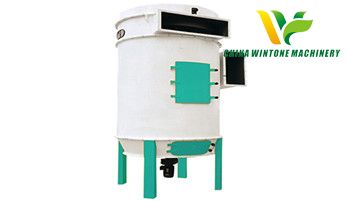 Series of models:
BLM-FⅡ78 BLM-FⅡ108 BLM-FⅡ130

Features of high voltage pulse cloth dust collector:
High quality steel plate;
It adopts advanced equipments for baiting, bending and welding;
Good sealing ability and no dust flying;
It adopts high strength grade bolts at the joint part;
Y deduster adopts tubular type tangential for air inletting, which can effectively reduce equipment resistance and filter bag load;
Pulse nozzle electric control. Magnetic valve and deflation valve form and has compact structure;
Large blast capacity for processing, small floor space.
Functions of high voltage pulse cloth dust collector:
High voltage pulse cloth dust collector is widely used in grain processing plants, feed enterprises, building materials and chemical engineering industries. It can effectively recycle the dusty gas and remove dust.
Technical parameter of high voltage pulse cloth dust collector:

Model

Filter Bag Number



Filter Bag Size
(MM)

Filtering Area
(M2)

Blast Capacity for Filtering
(M3/H)

BLM-FⅡ78

78

Φ120X2000

54.3

9770-13000

BLM-FⅡ108

108

Φ120X2000

81.4

14650-19530

BLM-FⅡ130

130

Φ120X2000

90.5

16290-21700
OUR FACTORY:

PROCESSING WORKSHOP:

CUSTOMER VISIT:

FAIR:

OUR TEAM: