YMSF40 Five-size Corn Grits Machine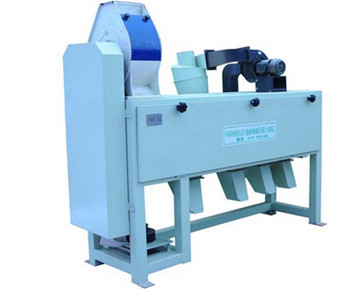 Five-size Corn Grits Machine Usage:
1. Mainly used in smashing peeled corn kernels to make corn grits and classify end products.
2.Large-scale of corn grits and corn flour making machine.

Working principle and features of Five-size Corn Grits Machine:
Win Tone YMSF40 Five-size Corn Grits Making Machine can produce 2000-2500kg of corn grits and corn flour per hour. The processed end products are uniform, smooth and have good taste. It is the first choice of machinery for small grinding mills and the popular equipment in export or low-cost business investment.

YMSF-40 corn grits machine mainly consists of rack, grits making mechanism, screening and grading device, husk sucking device and motor drive. The grits making section adopts new designed water drop shape of grits making machine. It utilizes the high speed rotation of shearing type of blade. The peeled corn kernels gradually form into the mixture of corn grits and corn flour under the effect of the blade strike and cutting and screen friction and crash. The smashed material enters into cylinder screen for screening and tiny husk removing so as to realize smashing, grits and flour milling. It has winnowing system inside which can collect the dark spots and corn umbilicus efficiently and improve the market competition of the end products.

The friction and cutting between the shearing blade and corn kernels can reduce corn flour so as to improve corn grits yield rate and make the corn grits granules more uniform.
It is easily maintained. The screen is easily changed and can meet different grade needs of various end products.
Accessories of corn grits machine: screen, hairbrush, sieving slice

Technical parameter of Five-size Corn Grits Machine:

~~~~~~~~~~~~~~~~~~~~~~~~~~~~~~~~~~~~~~~~~~~~~~~~~~~~~~~~~~~~~~~~~~~~~~~~~~~~~~~~~~~~~~~~~~~~~~~~~~~~
OUR FACTORY:

PROCESSING WORKSHOP:

CUSTOMER VISIT:

FAIR:

OUR TEAM: