Maize flour machine features:
This small scale maize flour machine or corn flour machine can grind maize,wheat or beans into fine powder. It has small volume and is easily operated and maintained.
This small scale maize flour machine just needs low investment and has complete functions, high degree of automation and low noise. There has no dust caused by the maize milling process.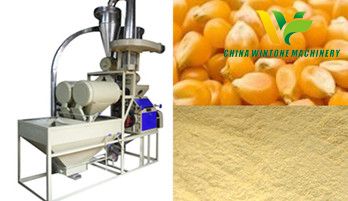 Maize flour machine working principle:
The moisture content of the unprocessed grains should be 13.5~14.5%. Start the blower and then start the grinder. When the blower and the grinder are both started, the workbin can be blanking. When the grinding head stock bin has material, then we operate by the order of the combined grinding brake. When we shut down the machine, we should shut down the grinder first, then the blower. Flour milling process should be repeated. We can adjust the roll clearance three to four times successively until it reaches the flour yield. It can adjust the flow by adjusting the clearance between the flow plate and the feeding roll. Rotating the hand wheel screw can adjust the flow.

Maize flour machine technical parameter:

~~~~~~~~~~~~~~~~~~~~~~~~~~~~~~~~~~~~~~~~~~~~~~~~~~~~~~~~~~~~~~~~~~~~~~~~~~~~~~~~~~~~~~~~~~~~~~~~~~~~
OUR FACTORY:

PROCESSING WORKSHOP:

CUSTOMER VISIT:

FAIR:

OUR TEAM: