Maize miller features and function:
Maize miller has the features of simple structure, easy installation and maintenance, small volume, low noise, low energy consumption, environmental protection, low investment, high automation degree and so on. It can produce fine maize meal without bonding. Maize miller grinds maize into fine powder by the grinding roll. After screening and winnowing, the end products (maize flour and maize bran) can be packaged separately. Maize miller can also grind wheat and beans.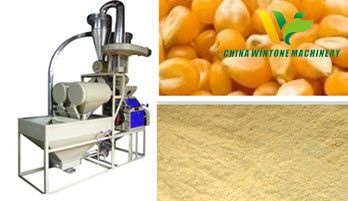 How to operate maize miller?
The moisture content of the unprocessed grains should be 13.5~14.5%. Start the blower and then start the grinder. When the blower and the grinder are both started, the workbin can be blanking. When the grinding head stock bin has material, then we operate by the order of the combined grinding brake. When we shut down the machine, we should shut down the grinder first, then the blower. Flour milling process should be repeated. We can adjust the roll clearance three to four times successively until it reaches the flour yield. It can adjust the flow by adjusting the clearance between the flow plate and the feeding roll. Rotating the hand wheel screw can adjust the flow.

Maize miller technical parameter: