Application of corn polishing machine:
TXQS40*2 moldy corn kneading type corn polishing machine can process moldy corn by kneading type cleaning and polishing so as to improve corn grade.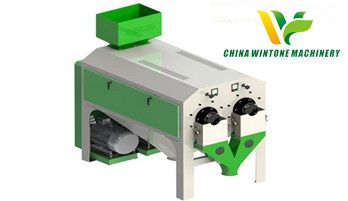 Design background of corn polishing machine:
In some humid areas, especially during the period after harvesting and before warehousing, corn is easily moldy. Win Tone Machinery researched and designed this moldy corn kneading type corn polisher by investigating different areas conditions, studing moldy corn features and conducting a lot of experiment.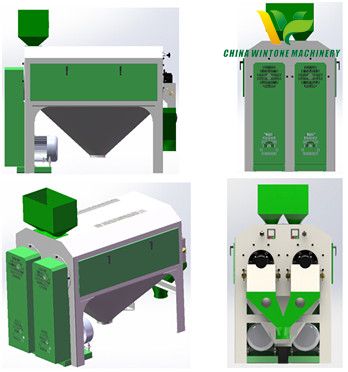 Technical parameter of corn polishing machine:
Model: TXQS40*2
Length*width*height: 2240*1425*2170
Power:15KW *2
Yield:more than 10T/h
Whole weight:1388 Kg
Removing rate for moldy corn:97.1%
Removing quantity for moldy corn:0.5—1.0 %
Diameter of the feeding port: 170
Diameter of the lower exhaust inlet: 200
Diameter of the discharging port: 170

Features of corn polishing machine:
1. The working parameter for corn kernels' different moldy level can be adjusted according to customers' needs.
2. The corn polishing machine almost has no broken rate. It has large yield and high polishing efficiency.
3. The rotor has the dynamic balance precision verification.
4. The machine has reasonable structure, high quality raw material, spare and accessory parts and is easily operated.

Structure and functions of corn polishing machine: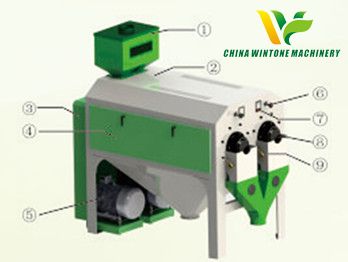 1. The feeding hopper is used to observe dynamic feeding.
2. The rack section can ensure the equipment's stability.
3. The shield is designed by carrying out the national safety standard.
4. The machine door has good sealing effect and is easily dismounted.
5. The transmission part- triangular belt tension can be adjustable, which can realize high efficiency and low energy consumption.
6. Feeding capacity can be adjustable.
7. Electricity monitoring part can monitor whether the equipment running is normal.
8. Discharging part can adjust material processing time by the equipment according to different requirements.