Corn flour grinder introduction:
Corn flour grinder with pneumatic control method is widely used in corn flour processing and wheat flour processing. Corn flour grinder offers three control methods including automatic control, manual control and centralized remote control. The centralized remote control is able to separate or reunite the clutches of all roller mills at the same time, thus reducing labour cost. Our product is outfitted with start and stop buttons for the main motor, and the control circuit could be tailored to best fit for the PLC. The gravity sensing system detects the material flow rate and stock level to realize follow-up control, such as the opening of feeding door, the stop of rolls, etc. The digital ammeter is able to reveal accurate data, and these values can be seen clearly even from a distance due to the application of red Nixie tubes. As a result, the operators can know the running status of this machine easily.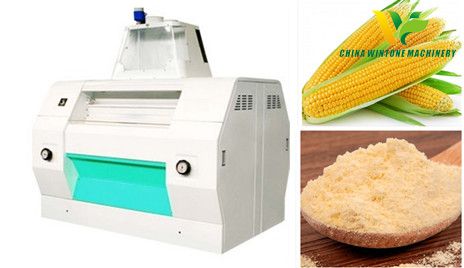 Corn flour grinder advantages:
1. The base of our roller mill is fabricated by cast iron, and as a result of its high strength, the base is very firm and won't change its shape easily. Meanwhile, it cuts down the vibration and noise generated during working, while the assembly precision of rolls and the working stability of the entire machine are both enhanced.
2. Pneumatic corn flour grinder has electrostatic spraying surface, bright color, elegant design, and luxurious appearance;
3. Automatic pressure control can be controlled individually or remotely by computer, high degree of automation;
4. In addition to pneumatic clutch, electromagnetic clutch can also be applied. Small size, low cost, easy to install, reliable performance;
5. The eccentric structured grinding roller is an independent self sustaining system and well shock absorbed;
6. Flat grinding roller set, the material is easy to enter the grinding chamber, efficient, convenient to maintain;
7. Synchronous rotation roller, smoothly operated, low noise, safe and environmentally protected;
8. The centre of the pneumatic corn flour grinder with negative pressure suction device can improve feeding status, lower temperature of the material;
9. Finished products of grits, flour in uniform particle size, excellent quality, and large output.g.
10. The rolls are cleaned by either a brush or a scraper, and this selection should be in accordance with actual flour manufacturing process.

Technical parameter of pneumatic corn flour grinder:
~~~~~~~~~~~~~~~~~~~~~~~~~~~~~~~~~~~~~~~~~~~~~~~~~~~~~~~~~~~~~~~~~~~~~~~~~~~~~~~~~~~~~~~~~~~~~~~~~~~~
OUR FACTORY:

PROCESSING WORKSHOP:

CUSTOMER VISIT:

FAIR:

OUR TEAM: