Low investment corn flour machinery is mainly used in small scale of coarse grain flour plants. It has the features of complete function, low noise, sanitation, high automation degree, easy installation and low production cost.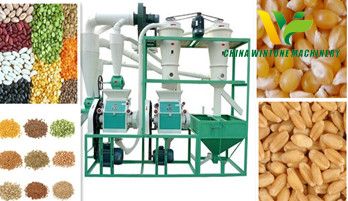 Corn flour machinery can grind corn and wheat into flour by its grinding roll. After selection by circular vibrating screen and winnowing, the flour and the bran is packaged separately. It can also grind pulses and other grains.
Win Tone low investment corn flour machinery requires the unprocessed grain moisture content to be 13.5-14.5%. During operation, we should start the air blower first and then the corn flour mill. When the corn flour mill and the air blower start, we can feed material. When the grinding head stock bin has material, we can operate according to the order of the combined grinding brake.
When we halt the machine, we should halt the corn flour mill first, and then the air blower. The corn flour milling process should be divided into several times. And during operation, we should adjust the roll clearance for three to four times until it reaches the flour yield rate. The raw material should have small flow and the wheat or corn bran can have large flow. We can adjust the flow by adjusting the clearance between the flow board and the feeding roll and we control the flow by rotating the hand wheel screw.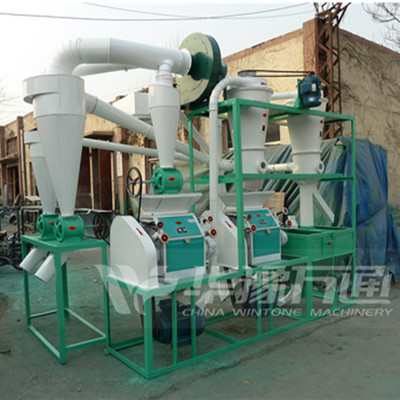 Corn flour machinery has the features of reasonable structure, stable running, reliable performance, low energy consumption, high efficiency, low production cost, good benefits, easy operation and maintenance and so on.

Corn flour machinery technical parameter:

Power
(kw)

Outline Size
(mm)
~~~~~~~~~~~~~~~~~~~~~~~~~~~~~~~~~~~~~~~~~~~~~~~~~~~~~~~~~~~~~~~~~~~~~~~~~~~~~~~~~~~~~~~~~~~~~~~~~~~~
OUR FACTORY:

PROCESSING WORKSHOP:

CUSTOMER VISIT:

FAIR:

OUR TEAM: