Pre-cooked corn flour can meet people's convenience for instant fast food. Corn steamed and cooked flour are popular in South America. Win Tone Machinery has designed and built several such processing lines in recent years. Welcome your inquiry!
Precooked corn flour processing technology and equipment configuration:
1. Processing technology: Raw material grinding - raw material plus agitation - feeding - extrusion - cooling - grinding - (filling)
2. Equipment configuration: Crusher - Mixer - Feeder - screw extruder - Hoist - Multi-layer cooling box - Crusher - (Filling machine)
Working Process:
1. Maize seed cleaning and stone removal: to remove impurities such as straw, grass and stones contained in corn.
2. Water conditioning: to better peel the corn skin.
3. Peeling and polishing: to remove the corn skin and germ to get clean corn kernels.
4. Steaming: Steam off the pre-cooked corn kernels
5. Rolling flakes: pre-cooked corn kernels are rolled for better drying.
6. Drying: to make corn flakes dry.
7. Grinding and sifting: Corn flakes enter the grinder, grind into powder, and pass the qualified powder through the screening equipment.
8. Packaging: Qualified powder enters the warehouse, and a vibrating unloader is used under the warehouse to connect an automatic packaging scale, and quantitatively package 5-25KG finished products.
Our 10Tons/Hour Precooked Corn Flour Production Line in Venezuela: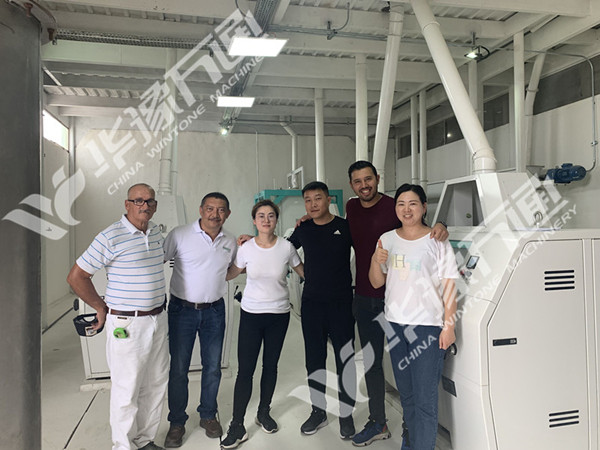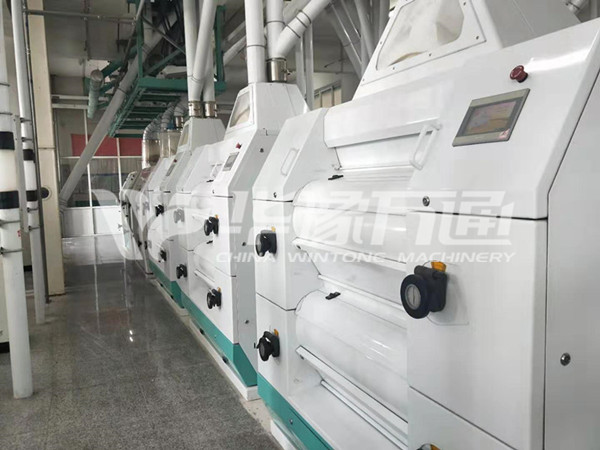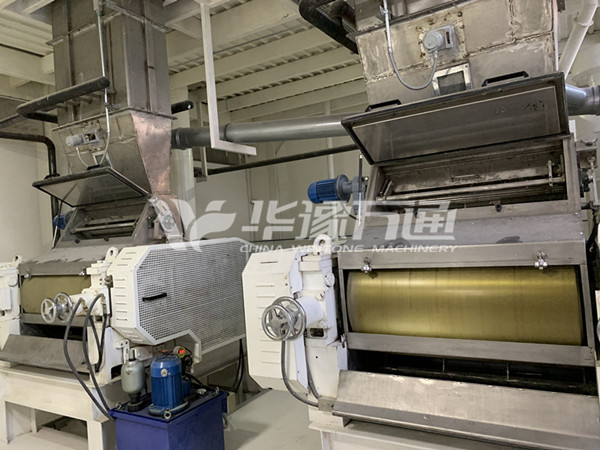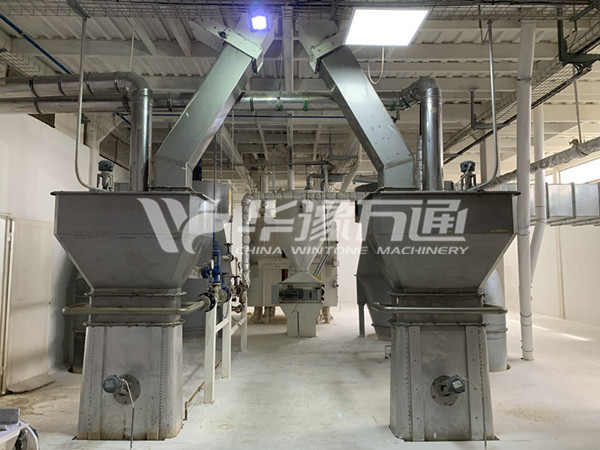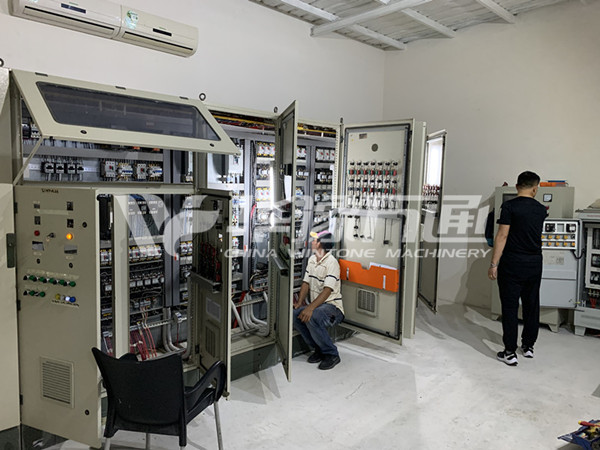 Some of Main Equipment and Functions::
1. Mixing powder machine: According to different production lines, different types of mixing powder machine are used.
2. Feeder: Uses the motor as a power screw conveyor to ensure quick and easy loading.
3. Extruder: According to different production lines, different types of TSE extruders are used.
The output can range from 100kg/h to 600kg/h. Corn flour, wheat flour and rice flour can be used as raw materials to produce expanded particles.
4. Hoist: The pellets are conveyed to the oven. The height of the hoist is determined according to the oven. Air blasters are also available.
5. Multi-layer oven: oven is mostly electric oven, the temperature is adjusted between 0-200 degrees through the control cabinet, the internal stainless steel double mesh bag, baking time can be adjusted according to speed, there are three layers, five layers, seven layers Stainless steel oven
6. Crusher: According to the requirements of nutritional powder, choose different crushers to crush.
Product Features:
Highly puffed, uniform powder, good water-solubility, without any additives, with puffed natural corn.
We can design and manufacture the line according to your capacity and other detailed requirements.
Food grade puffed corn flour application:
Expanded corn flour can be widely used in food, health food, dairy products, brewing foods, convenience foods, snack foods, baked goods, nutritious breakfast, nutritional powder, baby food, seasoning foods, solid beverages, cakes, cakes, biscuits, pasta.